Colours
Our solutions for a good quality painting of galvanized steel poles
GALVANISATION + PAINTING
You can make the life of a galvanised product longer, using the so - called duplex (or triplex) system, that is the combination of hot dip galvanisation and subsequent external painting cycle. In fact, the galvanised surface is not eroded by the weather agents and it keeps the original film thickness as long as the paint remains. In particular, the association of the two technologies is useful when a better finish is required, or when you want to increase the chromatic contrast in order to improve the visibility of the structure or, on the contrary, when you want to camouflage the elements in order to reduce the impact on the environment.

THERMOSETTING POWDER PAINTING
Although it should already be known that not all painting types are suitable to hot galvanisation, bad results are often obtained because of the wrong choice of products and application cycles. The duplex system must first of all assure a good adhesion between paint and the galvanised surface. Experience demonstrates that you can obtain good results with the application of thermosetting polyester powder coating. Such products turn out to be profitable also thanks to greater environmental compatibility. Furthermore, since this type of painting requires very complicated plants and devices, the improvised application by an unskilled operator is to be avoided.

SUGGESTED COLOURS
The acquired experience demonstrates that, mainly on glossy colours, there may be an anti-aesthetic effect such as sand grain due to the above mentioned reason. It is therefore suggested to choose COLOURS WITH A ROUGH EFFECT. In fact, with such finishing the above phenomenon doesn't appear or it is masked. The following COLOURS, for which names and reference codes are specified, are those SUGGESTED and for which THE PERFECT EXECUTION IS GUARANTEED. In case the customer wants to choose a DIFFERENT COLOUR, the delivery terms and sales conditions may change; in such case we exclude any responsibility on our part for trouble that may occur on the painted surface, and therefore WE CANNOT ACCEPT ANY CLAIMS ON IT.

"FUTURA" AND "STRUCTURA" COLLECTIONS
Special finishes in this folder are designed for use on metal components for architecture. Valued by architects for over 15 years, they have been successfully used in prestigious projects around the world. The proposed finishes are obtained with high durability powder coatings, which meet the requirements for resistance to weathering according to the main approvals such as QUALICOAT Class 2, GSB Master, AAMA 2604-05, BS EN 12206. These finishes match modern design with high durability performance, ensuring the quality of your projects for a long time.


C4DUPLEX OR C5PLUS?

C4DUPLEX = cathode protection double coat
Treatments:
galvanization + mechanical roughening + topcoat finishing

C5PLUS = cathode protection double coat + barrier effect
Treatments:
galvanization + mechanical roughening + primer + topcoat finishing

WORKING CYCLE
• Hot dip galvanization in melted zinc bath with coat thickness according to ISO1461
• Cleaning from galvanising residue and smoothing of the surface by light mechanic actions (filing, grinding, brushing)
• Treatment of the surfaces in order to take out grease or dirt and to create a good adherence
• Application by means of electrostatic spray, of polyester powder suitable to hot dip galvanised surfaces to be stocked outside
• Polymerization in furnace 200°
• Packing of each single column by wrapping 100% polyester non-woven fabric to avoid damages during handling, transport and stocking phases.


Technical Characteristics of the obtained coat:

Average thickness:
C4DUPLEX 130 micron = (70 zn + 60 topcoat)
C5PLUS 190 micron = (70 zn + 60+60 primer and topcoat)
Mechanical test resistance:
ISO1519, ISO 2409, ISO1520, ASTM D2794, ISO2815
Chemical test resistance:
ISO9227, ISO6270, ISO3231, EN12206-1, ISO2810, ISO11341-1, ISO11507


CORROSIVENESS CATEGORY AND LIFE TIME
The corrosiveness rate of the steel varies according to the corrosiveness level of the surrounding environment. The more aggressive the environment is, the faster is the speed at which the corrosion develops. The standard ISO 12944-2 defines some atmospheric and environments parameters of corrosion which are employed to define appropriate safety systems.


Categories ISO12944-2
External environment
lifetime DUPLEX
lifetime PLUS
C2
Country, low pollution
>15 years
>15 years
C3
Urban / Industrial Moderate pollution
C4
Industrial / Coast, Moderate salinity
C5-M
Coast / Marine, high salinity
5-15 years
>15 years
C5-I
Industrial, High humidity High pollution
---
2-5 years

The above mentioned info are based on experience and they do not involve any responsibility on our part. The mentioned lifetime is not to be deemed as a "guarantee period" but it is better considered as a technical info on which you can select the most suitable system to a maintenance program.

"STRUCTURA" collection
Standard RAL colours rough effect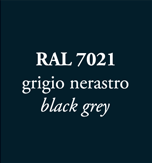 For technical reasons related to the reproduction of the shades, the under mentioned colours are only approximate. This document is not contractually binding.

"FUTURA" collection
SPECIAL colours rough effect

The application parameters affect the appearance of powered coating. Some slight variations in finish may occur. This document is not contractually binding.